Who we are
Our network is currently composed of about 250 filling stations up and down the country.
PRIO is a 100% Portuguese company that was founded in 2006. Its main purpose is to distribute and sell liquid fuels and produce biofuels.
We are proud of how far we have come since 2006 and that we are the only petrol station company on the Iberian Peninsula with triple QSE (Quality, Safety and the Environment) certification.
It is thanks to the work and effort of everyone who works at PRIO that we can distribute high-quality fuels that meet the legally established technical requirements at the most competitive prices.
Find here the nearest station.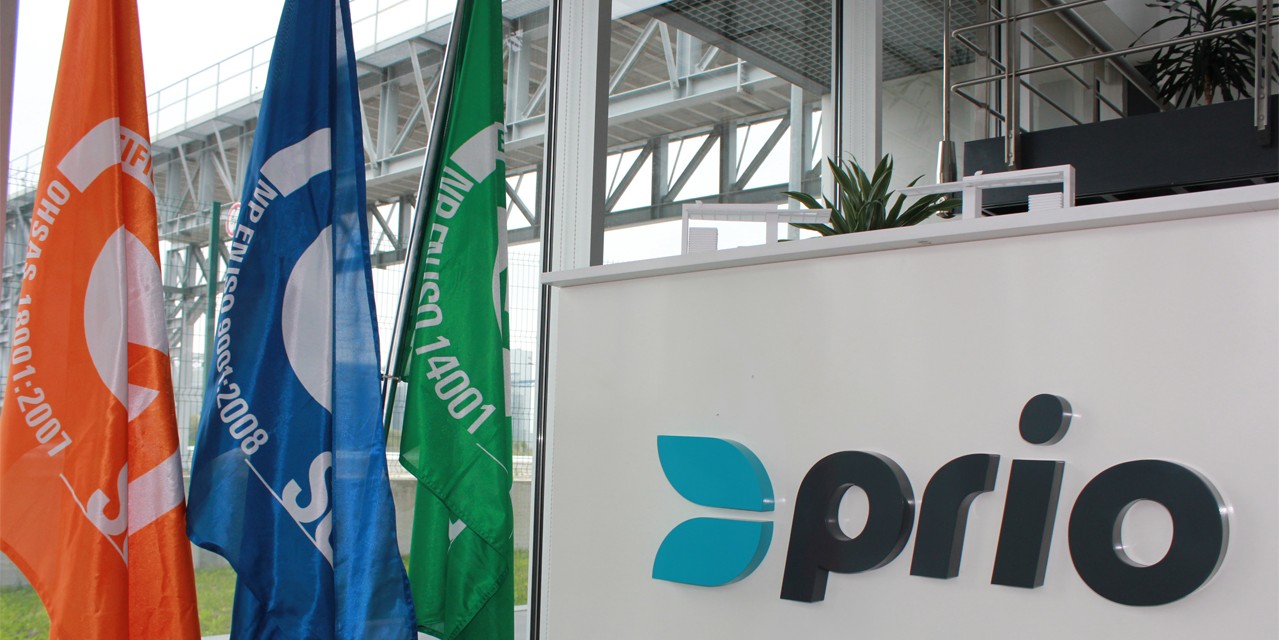 Our mission, vision and values
WE ARE PRIO
OUR MISSION
To produce and provide energy to move people, vehicles, goods and ideas.
Innovative, accessible and safe energies.
Energies to grown and create value.
For everyone.
OUR VISION
PRIO imagines a more efficient world, with intelligent energies that encourage sustainable mobility and encourage society to advance.
OUR VALUES
Courage: We face the challenges with confidence, dedication and perseverance, maintaining a firm, resilient attitude towards obstacles.
Ambition: We define goals that stimulate and challenge our skills and the sector's status quo, always keeping a strong ethical and humble basis.
Competitiveness: We work the business vertically from production to transformation and distribution to provide the final consumer with a much more competitive price.
Efficiency: We try to optimise the use of our resources, maximising their return. We encourage maximum efficiency on long-range projects.
Innovation: We constantly seek out excellence with innovative products and services developed in close collaboration with suppliers, clients and workers.
Simplicity: We simplify processes, procedures and operations to provide our clients with quick and easy solutions, always with the Prio guarantee of quality.
Accessibility: We work to ensure that all consumers have access to high-quality energy and mobility products at low prices.
Sustainability: We build the mobility of the future, investing strongly in innovative, environmentally-friendly solutions. We want to build a better world for future generations.
Responsibility: We take responsibility for our actions. We actively contribute to a better society with great concern for human development.
PRIO Energy, S.A. and PRIO Bio, S.A. were set up in October 2006. This was the year we began building our Biodiesel factory and started the design project for our Tank Facility in Aveiro.
PRIO began producing Biodiesel in 2007 and opened its first fuel stations in Oliveira de Frades (own network) and Torres Novas (PRIO Express network).
This was also the year we started providing Biodiesel rich mixtures to various private fleets.
We took a very important step in the history of PRIO in 2008 when we inaugurated the TGL - reception, storage and shipping terminal at the port of Aveiro.
We began selling B15, a mixture with 15% Biodiesel at the PRIO and PRIO Express stations.
The PRIO Energy SGPS holding company was set up through the integration of PRIO Energy and PRIO Biocombustíveis, S.A..
The TGL Integrated Management System was awarded triple certification in Quality, Safety and the Environment, making PRIO the only Iberian petrol company with this distinction.
Staying at the cutting edge in Portugal, PRIO inaugurated the first electric vehicle charging point in Greater Porto and installed the first Fast Charge point in Portugal.
PRIO Combustíveis received various certifications in terms of the environment (ISO 14001), healthy and safety (OHSAS 18001) and management quality (ISO 9001).
It was also in 2010 that PRIO released a premium product developed to reduce consumption and CO2 emissions, now called TOP Diesel.
PRIO was the first operator in Portugal to get a licence to charge electric vehicles.
That same year it entered into an international fuel card agreement with the British multinational EDC and launched the Rede + and PRIO ISO international cards.
PRIO.E is set up. This company is dedicated to electric mobility and the PRIO+ project was presented.
This was the year we launched PRIO bottled gas (9kg) with our own filling park in the port of Aveiro.
The PRIO lubricants are presented, along with a new 45kg propane gas bottle.
PRIO adopts a new image "ENERGIAS TOP LOW COST".
OXY Capital joins the PRIO shareholder structure.
The opening of the first service area – Mira Sintra.
PRIO signs an agreement with CIPOL for long-term filling stations rents.
Top Diesel and Top 95 premium products are released.
PRIO joins the Associação Portuguesa de Empresas Petrolíferas (APETRO), reaches 7% of market share and 5th place in the sector ranking in Portugal, in just 8 years.
18 PRIO filling stations install solar panels in an effort to reduce environmental impact.
The PRIO now has more than 220 filling stations up and down the country.
The PRIO mobile App is launched.
Joint venture with Hardlevel to install oil recycling bins at the filling stations.
Construction of the LPG storage park.
PRIO commemorates its 10th anniversary with 250 stations and 10% of the market share.
PRIO is considered the largest company in the district of Aveiro.
PRIO acquires PRIO Gás Lisboa and has a stake in PRIO Gás Porto.